Pál Acs will present his latest book "Reformations in Hungary in the Age of the Ottoman Conquest" published by Vandenhoeck & Ruprecht, at the Annual Conference of the European Academy of Religion, March 4-7, 2019 in Bologna.
Pál Ács (HAS RCH Institute for Literary Studies, Budapest) discusses various aspects of the cultural and literary history of Hungary during the hundred years that followed the Battle of Mohács (1526) and the onset of the Reformation. The author focuses on the special Ottoman context of the Hungarian Reformation movements including the Protestant and Catholic Reformation and the spiritual reform of Erasmian intellectuals. The author argues that the Ottoman presence in Hungary could mean the co-existence of Ottoman bureaucrats and soldiers with the indigenous population. He explores the culture of occupied areas, the fascinating ways Christians came to terms with Muslim authorities, and the co-existence of Muslims and Christians.
Contributors to the book launch:
Herman Selderhuis (Theological University Apeldoorn, director of Refo500)
Gábor Almási (Budapest, ELTE-BTK, HECE, Lendület Research Group, Post-Doc)
The book was published in Refo500 Academic Studies series.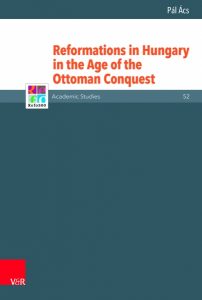 Read more about the conference of the European Academy of Religion