International multidisciplinary RefoRC conference October 27-28, 2017 at the Babeș-Bolyai University, Cluj/Kolozsvár, Romania: Changes, (Dis)Continuities, Traditions and Their Invention During 500 Years of Reformation. The Perspective of Long Reformation Applied to the History of the Central and Eastern European Region.
The Babeș-Bolyai University together with the Institute for Literary Studies, RCH, Hungarian Academy of Sciences organizes an international multidisciplinary REFORC conference in order to conclude and summarize the scholarly undertakings (2012‒2017) of the Refo500 partner institutes of the region and to introduce a new project focussed on the concept of Long Reformation.
For this conference not only commemorates the event of the Reformation, but intends to evaluate the findings of the scholarship and set forth as a new perspective the idea of Long Reformation in Central and Eastern Europe. The conclusions of this conference will surely constitute a reliable starting point for some new research projects that will sustain the complex study of the Reformation from 2017 onwards.
The conference benefits, first of all, from the excellent cooperation between the Hungarian Academy of Sciences and the Babeș-Bolyai University within the context of the Refo500 partnership. Nonetheless, the organisers of the conference are resolute to promote a scholarly dialogue that brings together not only the Refo500 partners of the region, but every scholar and institute interested in the study of Reformation in Central and Eastern Europe.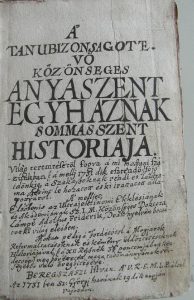 Image: first Reformed Hungarian Ecclesiastical History (1731),
written/compiled by István Beregszászi
Visual: early modern view of Kolozsvár/Klausenburg/Claudiopolis.
Event Info
Start Date
27 October 2017
End Date
28 October 2017