The winner of the RefoRC Book Award 2018 is Chiara Bertoglio from Bologna. At the opening session of the Eighth Annual RefoRC Conference the president of the Board of RefoRC handed her the certificate for her book Reforming Music. Music and the Religious Reformations of the Sixteenth Century (De Gruyter).
The award celebration took place during the opening session of the Eighth Annual RefoRC Conference 2018 at the University of Warsaw, May 24, 2018.
We asked the award winner a few questions:
Who is Chiara Bertoglio?
I am a musician, musicologist and theologian from Italy. My main interest, both as a practical musician and as a scholar, is to study how music and theology are in dialogue, how they can enrich each other, and how both are distinct – and yet interweaving – ways to speak with God, about God, and – in fact – to listen to God.
Why did you write this book?
When researching on the topic of sacred music in the age of the Reformations I realized that there was a great abundance of excellent studies and surveys on individual confessional traditions, but that a comprehensive overview was still missing. Moreover, I felt that occasionally the author's confessional belonging influenced his/her view in a somewhat polemic fashion. So I tried to write something which could work as an introduction to the field, as a stepping stone for further research, but also – if possible – as a musical contribution to the ecumenical dialogue among Christian confessions
What is an important insight you want to share?
That even at the time of utmost opposition among the Christian confessions, music remained an element of communion, building prayerful and "harmonious" bridges between the Churches. Thus, I think that all Christian Churches should take advantage of the extraordinary opportunity given to them by sacred music and singing, which can and should work as valuable instruments for the achievement of an ever-increasing communion, peace and unity.
What does this award mean to you?
Quite a lot. Writing this book was a  big untertaking for me both professionally and personally. In the book award a see a recognition of all my efforts in this respect, and I am very happy with it.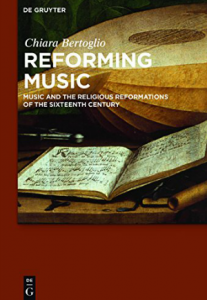 Image, left to right: Herman J. Selderhuis (RefoRC), Chiara Bertoglio, Stefan Selbmann (De Gruyter)