The latest issue of the journal Unio cum Christo is dedicated to the topic Current Debates in Reformed Theology: Practice. Besides articles on current practical debates, the journal includes contributions in commemoration of the Synod of Dort.
CONTENTS
Editorial: Did Arminius Win? / PAUL WELLS

FATH IN PRACTICE TODAY
9 On Serving God in Our Generation / DAVID MCKAY
27 Transgender: Trans-ition to Nowhere / PETER JONES
49 Sexuality and the Lost Proletariat / NOEL WEEKS 63 Genesis 2:24 and the New Covenant: A Profound Mystery / COLIN HAMER 81 Unio cum Christo and Reformed Complementarity / NATALIE BRAND
95 Lessons from the Reformation for Hermeneutics Today / HENK VAN DEN BELT

REMEMBERING THE SYNOD OF DORT
111 The Theology of the Canons of Dort: A Reassessment after Four Hundred Years / ARNOLD HUIJGEN
129 Election: The Father's Decision to Adopt / JASON VAN VLIET 145 Abundant Sufficiency and Intentional Efficacy: Particular Redemption at the Synod of Dort / LEE GATISS
163 The Documents of the Synod of Dort (1618–1619)—A New Edition / DONALD SINNEMA

HISTORICAL STUDIES
175 The Perennity of Anselm's Proslogion / YANNICK IMBERT
181 Pierre Viret: A Pastor and Ethicist for the Twenty-First Century / TIMOTHY BLOEDOW 201 John Calvin and Philip Melanchthon's Sum of Theology / PAUL AND ALISON WELLS
209 Puritans on the Family: Recent Publications / JOEL R. BEEKE AND PAUL M. SMALLEY

INTERVIEW
225 Interview with Peter Opitz / PETER A. LILLBACK

BOOK REVIEWS
233 Robert Sherman. Covenant, Community, and the Spirit: A Trinitarian Theology of the Church / DONALD E. COBB
236 Herman Selderhuis. Martin Luther: A Spiritual Biography / EUNJIN KIM
239 Jonathan Willis. The Reformation of the Decalogue: Religious Identity and the Ten Commandments in England, c. 1485–1625 / HARRISON PERKINS
242 Matthew Barrett. The Grace of Godliness: An Introduction to Doctrine and Piety in the Canons of Dort / JEONG KOO JEON
245 David Gibson and Jonathan Gibson, eds. From Heaven He Came and Sought Her: Definite Atonement in Historical, Biblical, Theological, and Pastoral Perspective / THOMAS HAVILAND-PABST
249 James P. Eglinton, ed. and trans. Herman Bavinck on Preaching and Preachers / SINCLAIR B. FERGUSON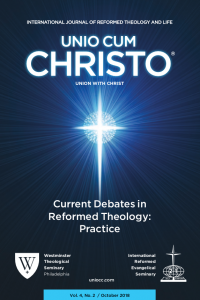 Unio cum Christo is published jointly by Westminster Seminary Philadelphia and International Reformed Evangelical Seminary, Jakarta.