Maurits Sabbe Library (Charles Deberiotstraat 26, Leuven) – from 1 August to 30 November 2017.
On 31 October 1517, Luther is said to have attached to the door of the Castle church of Wittenberg his 95 theses against the trade in indulgences and the theological concepts behind it. 500 years later, the Maurits Sabbe Library, the Faculty of Theology and Religious Studies, and the Faculty of Arts have organized an exhibition of the most important pieces preserved in the Leuven libraries which document this history.
Visit a preview of the exposition through this link.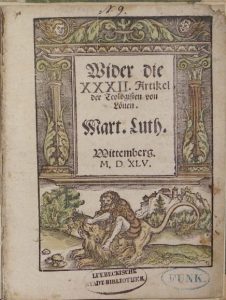 Texts and images: Wim François, Violet Soen and Yannick Van Loon
Event Info
Start Date
1 August 2017
End Date
30 November 2017