Volume 7 of Hapshin Theological Review (HTR) deals with the Synod of  Dord (1618-1619).
The special theme of this issue is The Great Synod of Dort (1618-1619). The Canons of Dort, International Reformed theology, and the Korean church after 400 Years. It contains contributions of Richard A. Muller, Byunghoon Kim, Charles K. Telfer, Seung-Goo Lee, John Span, Nam Kyu Lee, Seongmin Ryu, Herman J. Selderhuis, Adriaan C. Neele and others.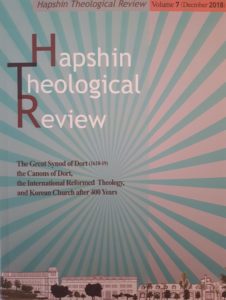 The Hapshin Theological Review is an international journal of reformed systematic, historical, Biblical , and practical theology. It is an instrument for the study of living reformed theology, that provides a forum for debate on classical and contemporary theological issues. The review is published by the Hapdong Theological Seminary in Suwon, Korea.
Read here the article of Prof. Seung-Goo Lee: The Meaning and Significance of the Infralapsarian Expressions of the Canons of Dort.