Dr. Seongmin Ryu from Korea wrote his dissertation on the theology and exegesis of Philip Melanchthon's Psalm commentary.
Dr. Seongmin Ryu, why did you choose this topic for your dissertation?
In fact, my doctoral supervisor, Prof. Selderhuis, recommended the topic to me. He invited me to the world of the Psalms. It was a great pleasure for me to work on this topic because I am enthusiastic about the Psalms and this special figure of the Reformation, Philip Melanchthon.
What insight struck you most while working on your dissertation? 
First of all, my work is about the songs of the church, psalms that were precious for generations of church members, especially for the Reformed of the 16th century. In this life, the Psalms give the church comfort and the promise that God is always with the church, that he helps her, and keeps her. Melanchthon wanted to communicate to a church that was in a difficult situation in those days, the message of promise and consolation, that is, the promise and consolation of God. The Word of God is not far from us, but very relevant. The thoughts of Melanchthon about the relevance of God's Word struck me most. And this relevance of the Word should also be remembered by the church today
How big is the  influence of Philip Melanchthon in Korea?
In Korea, Melanchthon is considered to be but the second reformer in the Lutheran Church. The large churches in Korea belong to the Reformed tradition and they have little interest in persons like Melanchthon. But they find the traditions of the Reformation worthwhile, and so they enjoy the influence of Philip Melanchthon without being aware of it. I hope that my work will help people in Korea get a better understanding of Melanchthon.
Who is Seongmin Ryu?
Husband, father of five children, a pastor in the Reformed Church in Korea (Hapshin). As a scholar, I am a research professor at ACTS Theology Institution and I teach Reformation and Reformed Theology at some theological seminaries.
___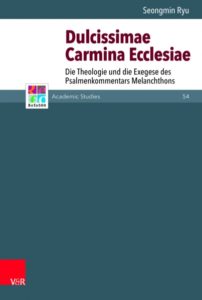 The dissertation is forthcoming in the R5AS series, published by Vandenhoeck & Ruprecht: Dulcissimae Carmina Ecclesiae. Die Theologie und die Exegese des Psalmenkommentars Melanchthons. More