Paolo Astorri wrote his dissertation on Lutheran Theology and Contract Law in Early Modern Germany (ca. 1520-1720). We interviewed him about his book.
What has Christian spirituality to do with law?
The Church has always been connected with law. Christ himself did not abolish the law. He invited Christians to an inner conversion. But the Christian could always be seduced by 'the world' and therefore Christ taught a procedure for fraternal correction. Christ also faced concrete legal problems (e.g. the issue of working during the sabbath). The first Christian communities had to deal with similar problems. During the Middle age and early modern era the sacrament of penance resembled legal proceedings and theologians were involved with the moral aspects of legal obligations.
What most important insight did you get from your research?
Probably one of the most interesting insights concerns the approach adopted by the Lutheran theologians in comparison with their Roman Catholic colleagues. The Lutherans intended the distinction between law and morality in a much stricter way than the Catholics. As a consequence, they dictated contractual principles to guide the Christians' conscience, but a rather limited catalogue of specific norms. On the contrary, the Catholics strove for a very detailed and pervasive regulation of all fields of law.
Who is Paolo Astorri?
He tries to be a good Christian, an husband, a father and a passionate researcher. That is to say that he adores research life, but this counts nothing without interpersonal relationships and especially without faith in the grace of God.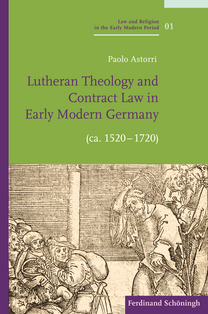 Paolo Astorri, Lutheran Theology and Contract Law in Early Modern Germany (ca. 1520-1720), Law and Religion in the Early Modern Period, vol. 1.   more