Konrad Peutinger (1465-1546) was a politician and a scholar. In both positions he became influential, namely as the one who gave essential input to politics in the city of Augsburg, and played a key role in humanist circles through his correspondence and his publications. A recently published collection of essays presents us the latest in research on this 'uomo universale', edited by Rolf Kießling.
Konrad Peutinger. Ein Universalgelehrter zwischen Spätmittelalter und Früher Neuzeit: Bestandsaufnahme und Perspektiven [Konrad Peutinger – A Universal Scholar between the Late Middle Ages and Early Modern Era: An Inventory and Perspectives], edited by Rolf Kießling.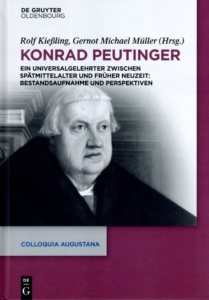 This volume documents a conference held on the occasion of the 550th anniversary of the Augsburg municipal clerk Konrad Peutinger. It honors the broad scope of his work as a politician, jurist, and humanist, highlights facets of his legacy, and lends new impetus to further research. The thematic range includes consideration of municipal politics and journalism, aspects of his knowledge, and a critical examination of the culture of remembrance.