Liesbeth Corens, British Academy postdoctoral fellow at Queen Mary, University of London, is the winner of the RefoRC Book Award 2019. She got the award for her book Confessional Mobility and English Catholics in Counter-Reformation Europe.
We talked to her about the book and the award.
Liesbeth, why did you write this book?
I wrote Confessional Mobility because I am interested in the practices through which people of the past create and sustain belonging. The role of mobility — not just migration, but mobility, the continuous movement of people and things and ideas — offers an intriguing angle on those questions, because mobile people show that community is not a given, predicated by location or birth, but constantly worked on and renewed, even when at a large distance from each other. Moreover, expatriate English Catholics are making sense of their communities on so many different levels: they sustain their bonds of belonging with English Catholics at home, they participate in local communities on the Continent, they feel connected to the wider universal Catholic Church. They highlight how community is something one is not simply part of but participates in.
What is the major point in your book?
What I really hope readers take away from the book is the importance of terminology for mobile people and how our words shape what we see. I deliberate do not call these English Catholics abroad 'exiles', because that puts a label on the person and reduces their entire identity to that label, including the associations of separation, victimhood, and isolation. Rather, I propose to use the umbrella term 'confessional mobility', which names the activity, not the people, and leaves room for a much broader range of practices: educational travel, pilgrimage, scholarly research trips, short term visits to family abroad, etc. That wider, more diverse set of practices shows a dynamic group which strengthened through its connection across the Channel and which managed to uphold bonds and create a community without borders.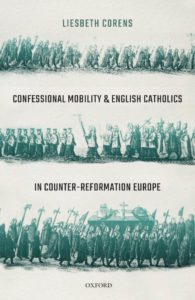 Did you find something you did not expect?
When I started out his research, I assumed I would provide the counterpart to the work on Protestant exiles, which show the role of clearly-defined exile churches. Over the course of many archive visits, I was struck by the significant differences between the confessions and how these shaped the lives of mobile people. The way Catholics conceived of their travels was very different from, especially, Calvinist interpretations. Rather than the strong identification with the Israelites in the dessert, they looked at missionaries and apostles as models. That shaped the way they conceived of their time abroad and vice versa: not isolated wanderers, but people dedicated to their country of origins and intent on reconciling it to the Catholic Church. I had not anticipated how key those theological differences would be in the different lived experiences and memories.
Who is Liesbeth Corens?
I am an early modern historian, working on Catholic minorities. I am originally from Belgium, but have lived and worked in the UK since 2010. I am currently a British Academy post-doctoral fellow at Queen Mary, University of London. In my new project, I am looking at Catholic counter-archives: the ways in which English and Dutch Catholics ensured their side of the story of the reformation was not forgotten and how those practices of record-keeping and commemoration helped to sustain their communities.