The first volume of the Reformed Systematic Theology by Joel R. Beeke and Paul M. Smalley is published at Crossway. The subject of the first volume is Revelation and God.
The first volume in the Reformed Systematic Theology set of four projected volumes that draws on the historical theology of Reformed tradition, exploring the first two of eight central points of systematic theology—the doctrines of revelation and the character of God—with an accessible and comprehensive approach that is biblical, doctrinal, experiential, and practical.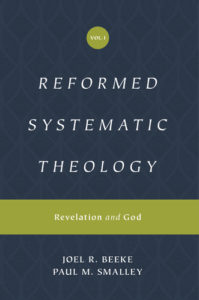 "We believe that the experiential application of doctrine is paramount for doing good systematic theology. Systematic Theology should minister to the whole person," write Beeke and Smalley. "We hope that this work will help prepare God's servants to nurture spiritual knowledge and saving faith in God's people according to the riches of Christ. We aim not only to educate you as the reader, but also to edify you and to equip you to tell others the wonders of our God."
Video: How will this impact my life?