The Renaissance Department of the Institute for Literary Studies, Research Centre for the Humanities at the Hungarian Academy of Sciences has organized a summer course reflecting on the possible applications and interdisciplinary uses of The Concept of the Long Reformation and the Literary History of Early Modern Hungary and Transylvania, May 22‒26, 2017.
The course was structured in such a way, as to complement the theoretical training provided by lectures with the reading and interpretative tasks of the seminars. The lectures examined the concept of Long Reformation in order to explore those historical and cultural phenomena that shaped the emergence, spread, and actual impact of Reformation. Thus, a rather consistent timespan comprising three centuries (1500‒1800) has been established as the common platform of all ensuing conversations and dialogues deciphering the vernacular and Neo-Latin textual heritage of the era. The horrifying case of Francesco Spiera who died because of his religious despair, constituted the starting point of a rather complex assessment of European Reformation, with particular foci of interest revealing how art, for instance, shaped the development of Reformation, or how the impact of political theology brought about the emergence of confessionality. The critical understanding of early modern Neo‒Latin and Italian authors together with the fascinating world of alchemist artisanship added further interesting context to the examination of literary cultures during the Long Reformation. Finally, several lectures attempted to reveal the poetic and homiletic features of the dominant literary culture of the era, often defined as litterae , in an attempt to preserve its genuine early modern essence and functionality, delineating it from the romantic perception and understanding of literature.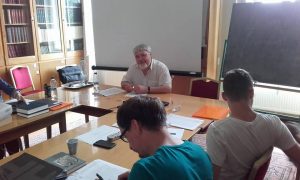 The seminars had the task to put an emphasis on the reading and interpretation of early modern vernacular and Neo-Latin texts. The close reading or comparative analysis of various sources had also constituted an ideal occasion to revisit significant methodological issues and commence dialogues on various textological phenomena. Furthermore the seminars were conceived and organised in such a way that the attending students would contribute with their opinion and arguments to the initiated discussions.
After the conclusion of the lectures and seminars the participants of the course, due to the generosity of our REFO500-partner the Hungarian National Museum, had the chance to visit the exhibition titled Grammar and Grace, one that was meant to commemorate 500 years of Reformation in Hungary and Transylvania.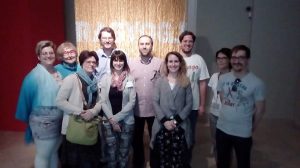 The last day of the course has been entirely dedicated to the workshop during which the attending doctoral students introduced their research projects and received feed-back from the invited experts.
A certificate of successful completion has been issued to the participants after the conclusion of the workshop and the summer course.