LUTHER@LEUVEN, the exhibition that was held 2017 in the Maurits Sabbe Library of the KU Leuven, is now digitally accessible.
The exhibition is dealing with the following themes:
Luther's mystical writings
Luther's treatises against indulgences (1517)
Acta Academiae contra Lutherum (1520)
Louvain's reply (1521)
Luther's refutation of the Argument of Latomus (1521)
Loci Communes Philipp Melanchthon (1521/1535)
Adrian VI 'confession' (1522)
Tapper's 32 Articles of Faith (1544)
Index of Louvain (1546)
Luther Bible
Liesvelt Bible (1542)
Five treatises by Martin Luther (1520-25)
Erasmus and Luther on the free and un-free will (1524-25)
Luther and controversialist theology in Germany (1524-)
Handbook of Commonplaces, by Johann Eck (1539?)
Serious disputation by Johannes Cochlaeus (1530)
Johannes Cochlaeus' seven-headed Luther (1564)
and also offers a gallery containing images of all objects in the exhibition.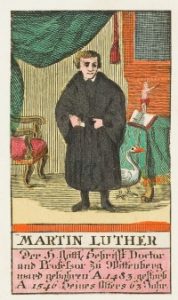 Go here to visit the exhibition.